Howdy!
So a couple cool things this last month of July.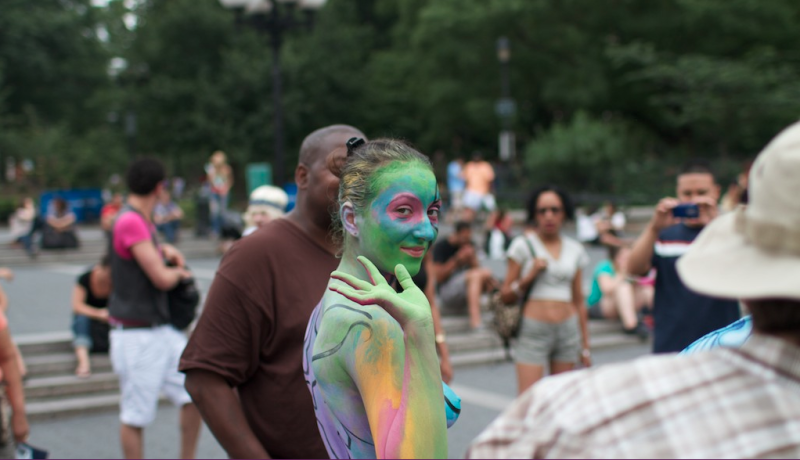 I got painted live by
ANDY GOLUB
of
www.andygolub.com
at Union Square on Gay Pride Parade.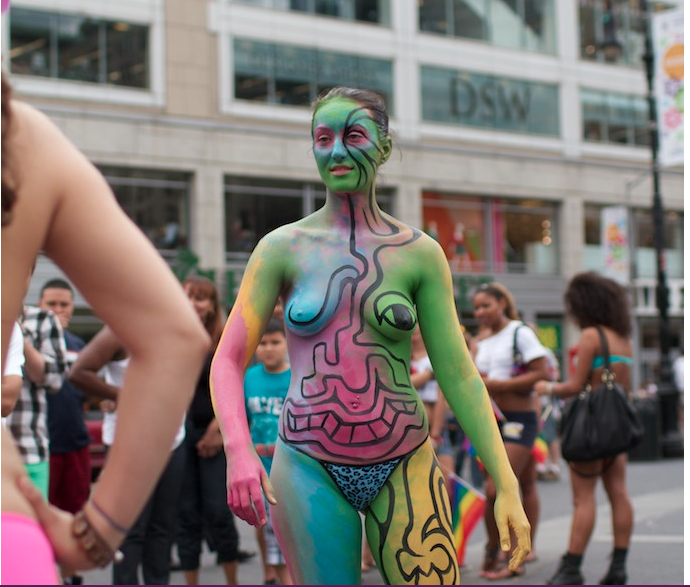 -(oh damn I just realized my Macbook Pro keyboard is light sensitive, meaning, it lights up whenever I shadow it when I lean in, fun! anyways......)
It wasn't perpetrated for gay pride (even though I am closet homo with an interesting gay porn collection), which everyone kept asking me and Andy while he painted, but
definitely matched nicely it being such a letting loose the wild gay goose day.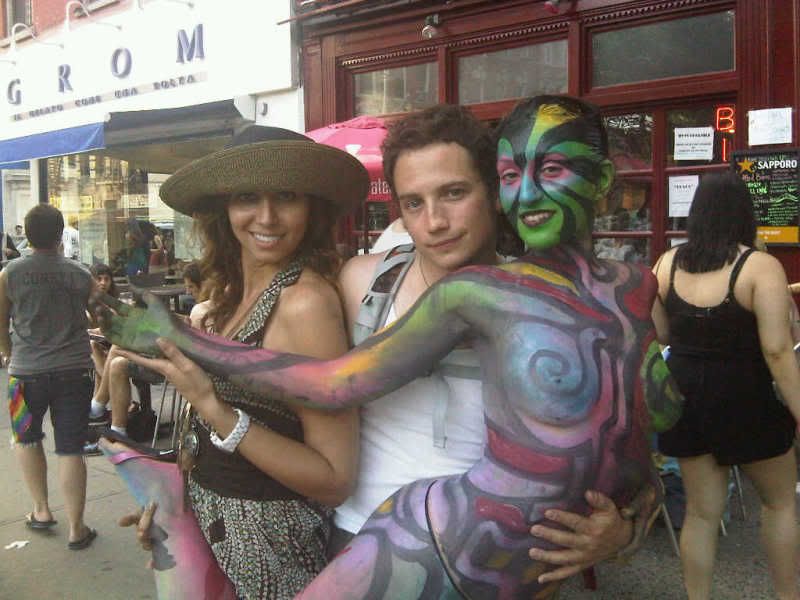 A couple of gays and none gays went topless to get painted on the spot as well!
I love it when people get involved spontaneously.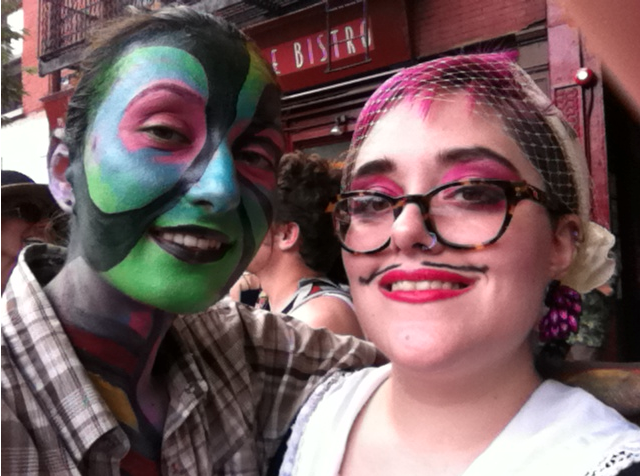 Next to us was a silent demonstration of prison torture protest with cage and orange jumpsuit "prisoners".
Andy was real quick to decide to completely exclude using orange. We didn't want to match the party poopers.
Then at some point a group of break dancers showed up. Music was nice to listen to and a ton more people started passing by who left the parade.
Everyone took a zillion pictures, I wonder in how many face book profiles I ended up the next day.
When it was all over Andy rushed off but me and Steve (camera man hired to video tape& photograph this occasion) headed to
Greenwich Village Bistro
13 Carmine Street
right by West 4th and 6 ave
http://maps.google.com/maps?q=13%20Carmine%20St+New%20York+NY+10014+
to have a seasonal watermelon beer ( it's better than it sounds)!
I had to put on my dress to get there because people wouldn't let me pass by asking to pose with me.
On the walk there I finally saw my reflection at store fronts and was completely surprised because I forgot that I look like a colorful lizard to everyone else.
Needless to say everywhere I went I got oogled and approached.
I didn't mind, and enjoyed being nude without really being nude.
It felt natural. Maybe I
am
a colorful lizard on the inside, just waiting to break out.
Till then, I shall wear clothes and preserve humanity.
Another cool event I worked on Wednesday July 6th at Lauren's house.
DRINK AND DRAW
http://web.mac.com/sculptstuff
in Williamsburg off of Morgan Stop on the L train
A monthly event, hosted by Lauren herself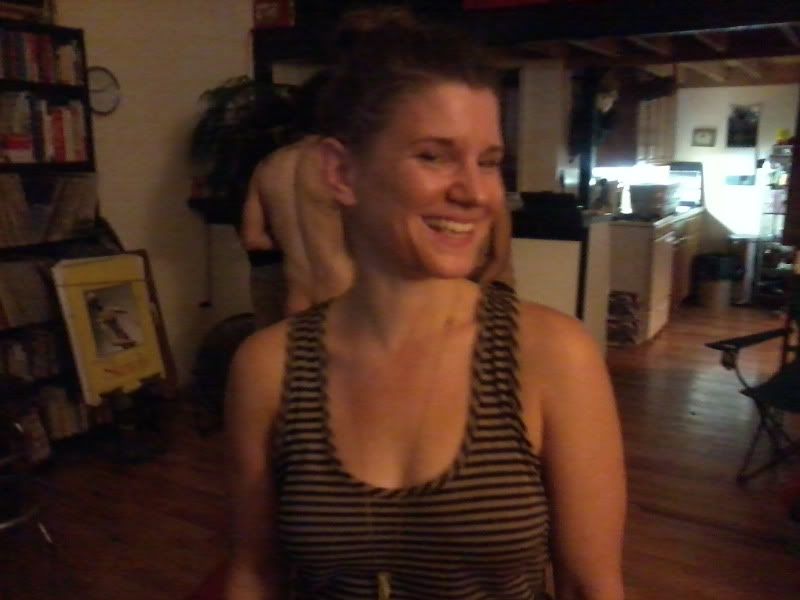 and wonderful model
VIktorsha Uliyanova
of
http://www.modelmayhem.com/1489773
Event cost 5$, for 3 hours of drawing with two nude models.
Free Juice , PBRs and soda for Artists and Models alike.
I had a lovely co-model for this live model drawing shop-Max of
www.shamelane.blogspot.com
And here's a sketch of the very last pose that we ended up doing together by request of artists.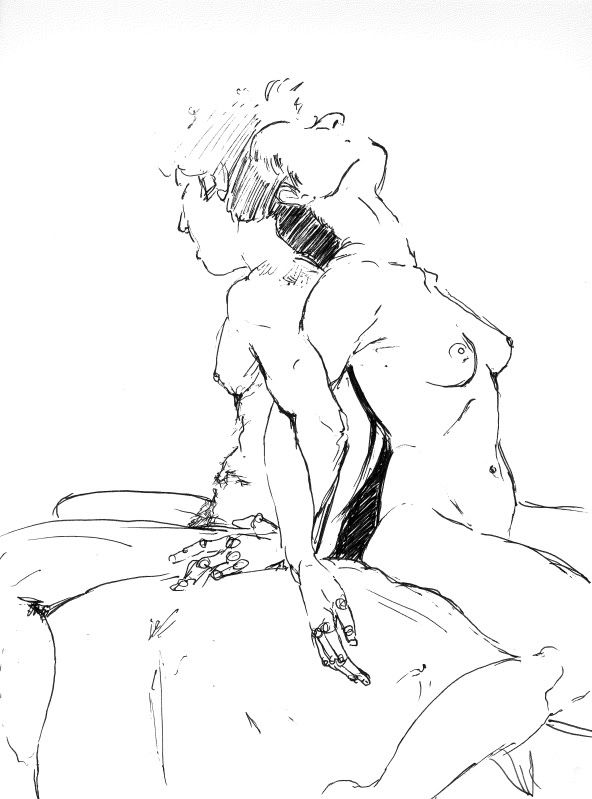 By: Kamron Robinson
Animator/Graphic Designer
www.kamronr.blogspot.com